KANSAS CITY AWNING & BASEMENT HOPPER WINDOWS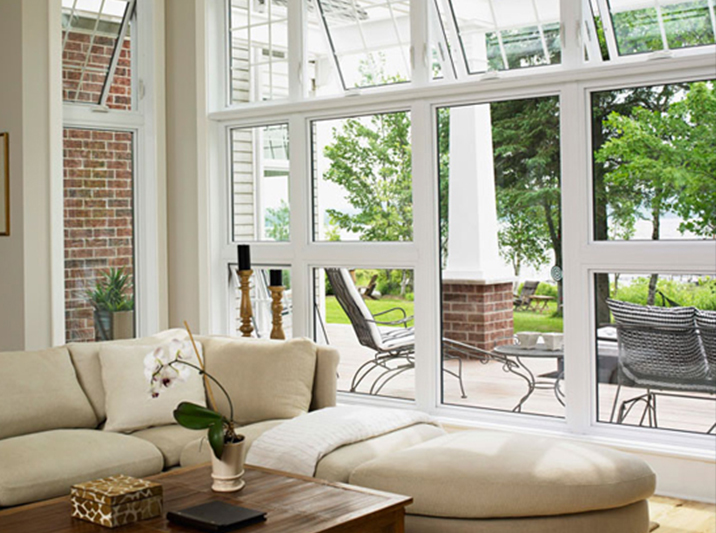 Kansas City Awning Window
Kansas City Awning Windows extend out and up, over the window opening, creating an "awning" effect. They allow for worry free ventilation even in a light rain.  Bring the outside, sunlight and breeze in by adding them above picture windows.
Look how awesome awning windows can look in the kitchen, while bringing in a breath of fresh air!
These windows are great for small spaces or areas where privacy is desired.  They allow for airflow in bathrooms and basements. They also provide illumination to these dark spaces.
Let in the Fresh Air and Sunshine
Top hinged, open outward for airflow
Use a hand-crank mechanism to open
Provide light, ventilation, and privacy
Great space-savers
Kansas City Basement Hopper Window
Kansas City Basement Hopper Windows are, just as the name implies, ideal for your basement. They work best installed higher up on the wall, so they are well suited to basements, or small bathrooms.
Brighten Up and Air Out
If your laundry room, basement or bathroom needs more ventilation or light, awning or basement hopper windows may be exactly what you need to brighten up the space. They work well in areas that are too small for full windows, or need more privacy. Great space-savers.
Ventilation:  Bottom or Top Hinged and Easy to Open for Air-Flow.
Features:  Interior and Exterior Accessory Grooves, Durable Zinc Cast Top Mounting Lock and Hinge
Options:  Insulated Panel Available to Mull to a Hopper Window