ENERGY SAVING FEATURES OF OUR KANSAS CITY REPLACEMENT WINDOWS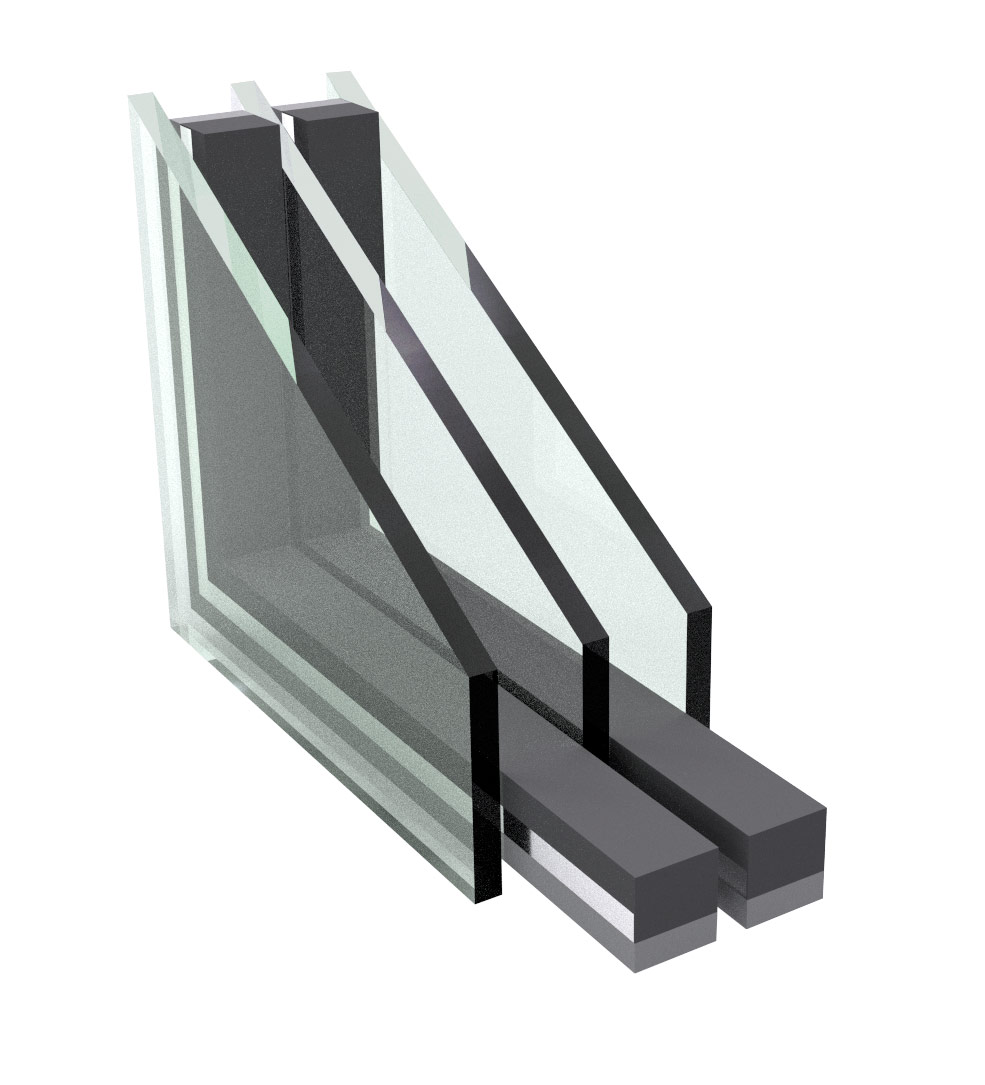 TRIPLE PANE TECHNOLOGY
Our signature feature, Window Depot USA is America's Triple Pane Company.  Triple Pane glass incorporates three (3) pieces of glass, constructed into an 'insulated glazing unit' or IGU.  The triple pane IGU increases energy efficiency, and resists condensation dramatically, when compared to typical dual pane windows.  Because of our national buying power, no company in America can match our combination of price & performance.
Neopor®
Neopor is a graphite polystyrene rigid foam insulation that gives maximum efficiency and sustainability in building products. It is comprised of many small pockets of air within a polymer matrix containing graphite. The graphite reflects radiant heat energy like a mirror, increasing the material's resistance to the flow of heat.
Bulb Seals
Bulb seals are seamless closed-cell compression seals that prevent water from penetrating the foam cell structure. Its extruded skin provides a unique UV resistant barrier with design features that enhance the weatherstrip's sealing performance.
Barrier-Fin
Seal woven and extruded pile weatherstripping with fin provides a very effective barrier against air, water, dust and noise, sealing against even and uneven surfaces with resistance to abrasion.
THE POWER OF KRYPTON
Inside our triple-pane insulated glass units, lies a powerful, invisible, insulating gas: KRYPTON.  Normal Energystar rated windows (of high quality) contain Argon as their main insulating gas.  Krypton is twice as dense as Argon and much less abundant in our atmosphere.  As a result, it is usually much more expensive.  But that's a problem for most companies, not Window Depot USA.

As our slogan goes, we're "Saving America's Energy, One Home at a Time"…and we aren't kidding.  Most people know about Energy Star certification for replacement windows, but did you know that there is a special designation that Energy Star reserves for the very best of the best?
Window Depot USA is proud to feature our GOLD and PLATINUM energy packages, which have been awarded the Most Efficient designation by the US DOE and Energy Star.
INNERGY® THERMAL REINFORCEMENTS
Innergy is the innovative, energy-efficient alternative to aluminum, with added insulation properties making it 700 times better.
The strength of a replacement window lies in its resistance to strong winds, and also to forced entry.  These heavy-duty fiberglass strengthening rods do just that!
BetterVue® Fiberglass Mesh Screen
Much stronger than the standard insect screen, this stainless steel screen is excellent for window applications. It is black coated for improved visibility and allows superior airflow. If you're looking for a stronger alternative to the BetterVue® screen, upgrade to a SeeVue. This screen mesh is available in an extruded aluminum frame.
Water-Shed Technology
 The BetterVue® fiberglass mesh screen features Phifer's® Water Shed Technology™, which preserves optical clarity by shedding water and resisting dirt and grime. The Water Shed Technology features a hydrophobic coating that will not wash off, which allows the screen to shed water and debris from a rainstorm or garden hose. This means your screen virtually eliminates window panning, a process by which the water fills the open squares in the screen.
FLEXSCREEN OPTION
Now offering the patented, simple, problem-solving screen design.  Earning multiple awards, and selling millions.
A paradigm-shifting product, FlexScreen is revolutionizing the window industry.
Sunshield Vinyl®
Vinyl that stands up to the elements Sunshield Vinyl is warrantied against warping, chipping and cracking, keeping our windows looking good for years to come.
Window Frame Depth
Deep frame depth gives our windows a distinctive, high-class appearance.
Deluxe Double Vent Lock
Looks like a conventional vent latch, but performs as a lock. It securely withstands impact by incorporating a tough polycarbonate tongue-and-groove design
Compound Tension Balance
Our Compound Tension Balance System ushers in a new generation of block and tackle balances, making our windows exceptionally easy to use.
ComforTech™ Glass
Measurably improve thermal performance with our ComforTech™ Warm Edge Glazing System. Every ComfortTech™ glass package features a NO-METAL spacer between the panes of glass and gas filled cavities that provide you with highly energy efficient glass and a warmer glass edge.
ComforTech™ Advantages
The NO-Metal Advantage
Thermal efficiency through no presence of conductive metals" is the Super Spacer® hallmark.
Mylar 10-Layer Vapor Barrier
The Super Spacer® thermoset foam matrix is exceptional. Moisture is kept out, gas is kept in and conductivity is virtually nonexistent.
Withstands Normal Bowing
The design of our Warm Edge Glazing System stands up to the bending and bowing that is natural in any glass unit.
Enhanced Noise Reduction
Our all-foam formula's excellent sound-dampening properties reduce outside noise, even in industrial environments.