Kansas City Custom Design Windows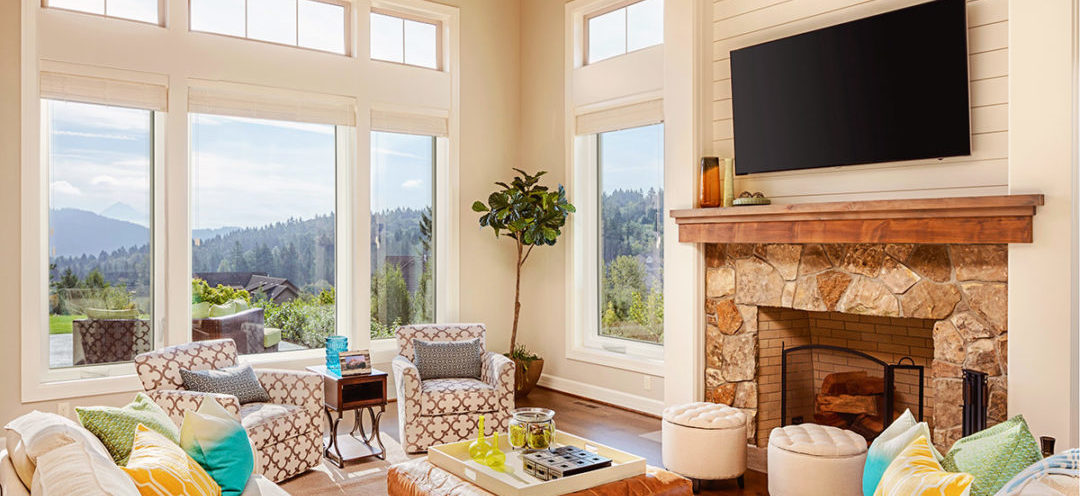 GO AHEAD, GET CREATIVE!
Your home is unique, your windows should be too!
That is why we customize our windows to your home. We also provide a wide variety of window designs and color options.
Enjoy getting creative and design you very own Kansas City custom windows!
CHOOSE YOUR COLORS
Endure™ windows are available in appealing woodgrain interior colors, along with four popular exterior vinyl colors. Remember,
each room in your house is unique, so your windows should be too. Choose interior colors to complement each room's style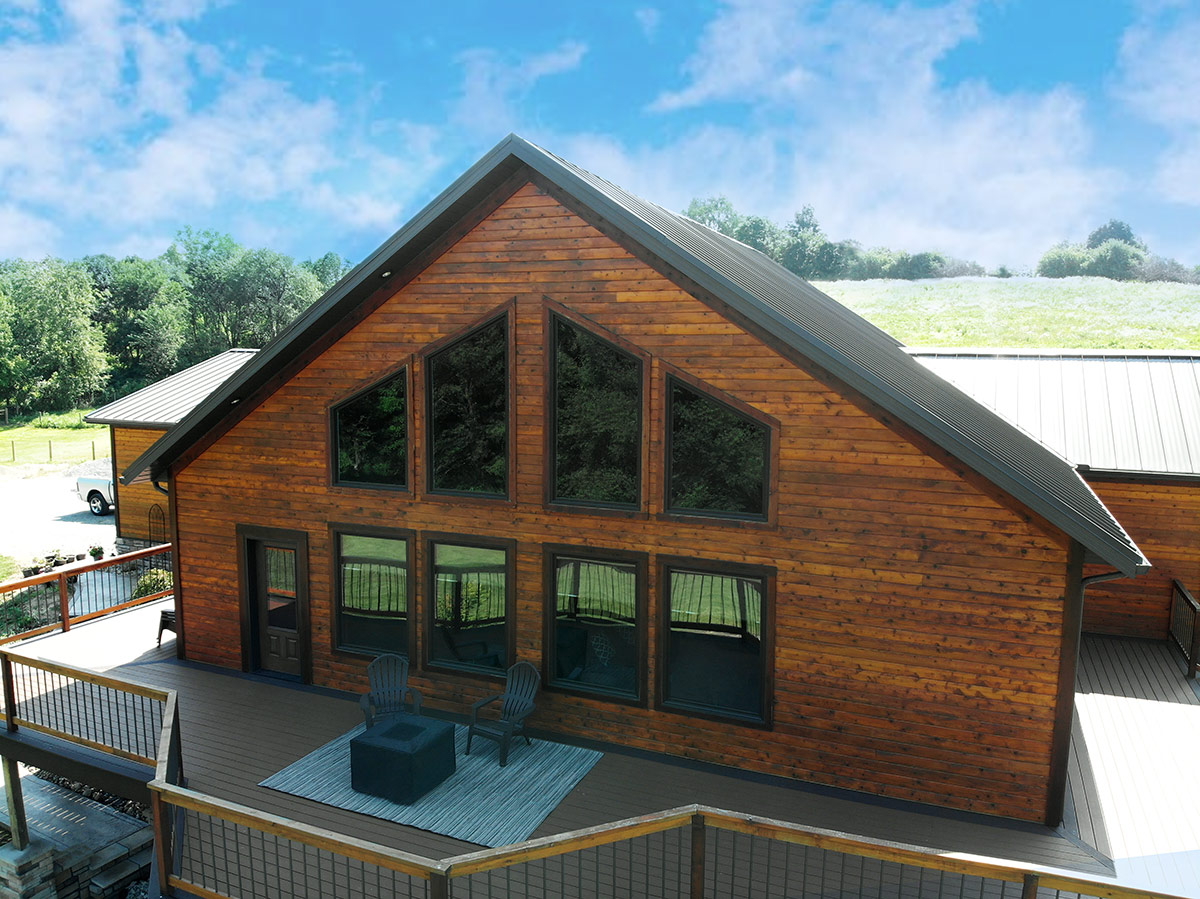 UPGRADE TO A PAINTED EXTERIOR
Complement the exterior of your home with painted windows to give your house a distinctive look. Choose from one of ProVia's® standard paint colors (shown below) or use your imagination and custom-match any color of your choice. The factory-applied paint finish maintains long-lasting color due to its exceptional UV and heat reflective properties. Choosing to paint the exterior of your windows means no worry of peeling, flaking or blistering. 15-year warranty on paint finish Standard with FlexScreen® (see page 6) Allow for additional lead time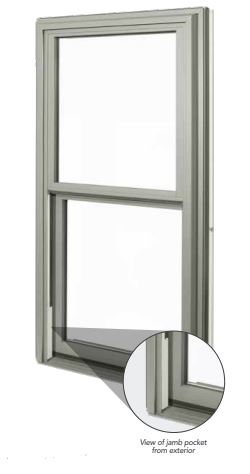 Custom-Matched Paint Colors
How to Order Custom Painted Windows
1. Visit a Sherwin Williams paint store and select a paint color of your choice.
2. Specify the selected color name and paint number from the paint color swatch at the time of order.
OR
1. Provide your dealer with three 3″ x 3″ samples of the selected color for ProVia® to match.*
*Homeowner sign off is required on all custom color matches. The color match fee applies.*
SELECT YOUR HARDWARE FINISH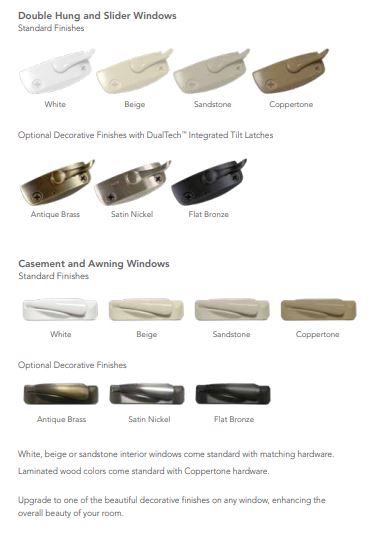 ADD EXTRA PRIVACY AND TINT TO YOUR WINDOW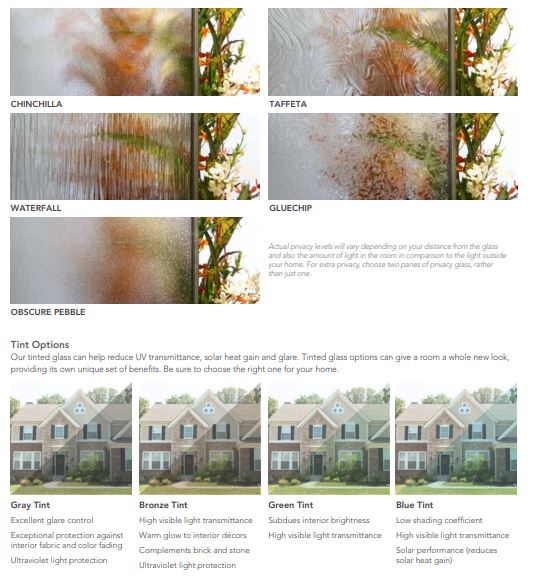 Privacy Options Choose from five different types of glass if you need light to filter in, yet want to maintain privacy. These glass styles look great in rooms where privacy is important. Regardless of where it is used, privacy glass reduces the likelihood of needing extra window coverings.
STYLE YOUR WINDOW WITH GRIDS
The style of grids you choose can make a big impact on your home's appearance. Grids look great on the front side of a house or in
accent windows throughout the home. You can choose from internal or external grids and several grid patterns including variations of Colonial, Cottage, and Prairie styles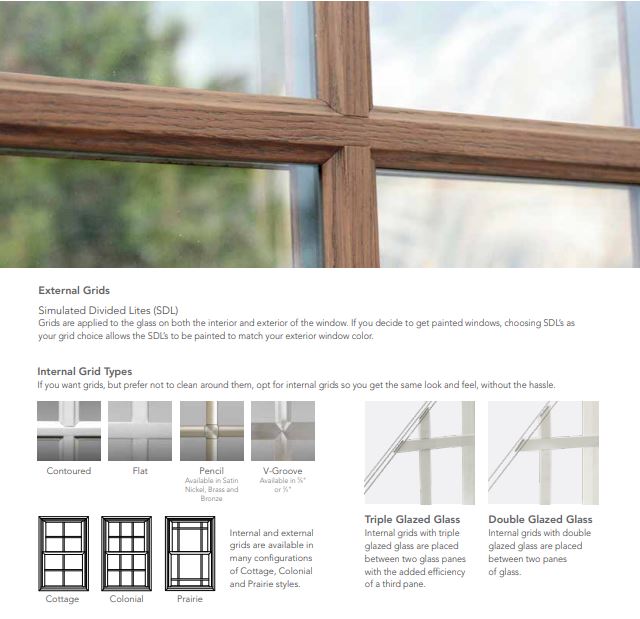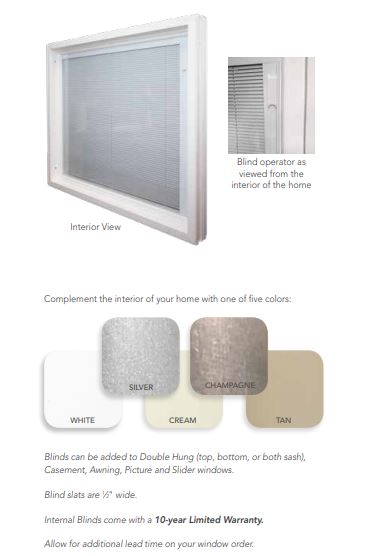 If cleaning dusty blinds makes you cringe, be sure to add internal blinds to your windows. These blinds are made with sturdy aluminum and are custom-fit to the exact dimensions of each window. Internal blinds work great in all bedrooms and bathrooms in the house. Blinds can be lifted up to allow maximum light in or they can be tilted to keep some light out and to maintain privacy.
CREATE A FOCAL POINT WITH DECORATIVE GLASS
Decorative glass is available in Double Hung (top and/or bottom sash), Casement, Awning, Slider, Picture, and Architectural Shape style windows. Designs will vary depending on window size. A drawing, showing the pattern based on the exact window size ordered, will be provided
for approval. Please see the Decorative Glass brochure for more style options. All decorative glass requires additional lead time.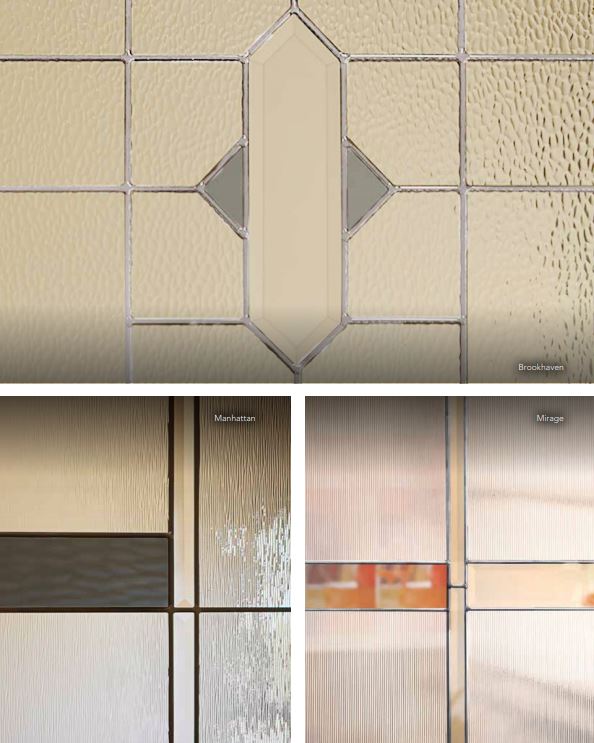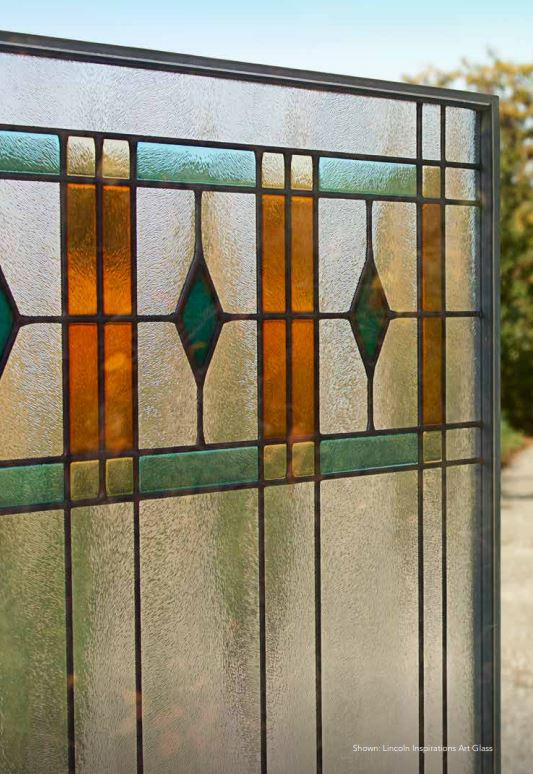 Our windows offer many options in decorative glass to customize and enhance the beauty of your home. The hand-decorated glass means no two sheets are exactly the same, providing the charm of Old World craftsmanship.
IMAGINE THE POSSIBILITIES WITH INSPIRATIONS™ ART GLASS
Inspirations Art Glass allows you to do just what the name suggests, let your windows reflect the inspiration of your imagination with your choice of design and color.
This hand-stained decorative glass comes in a variety of designs and palettes.
FINISH YOUR WINDOW WITH MASTERFIT™ TRIM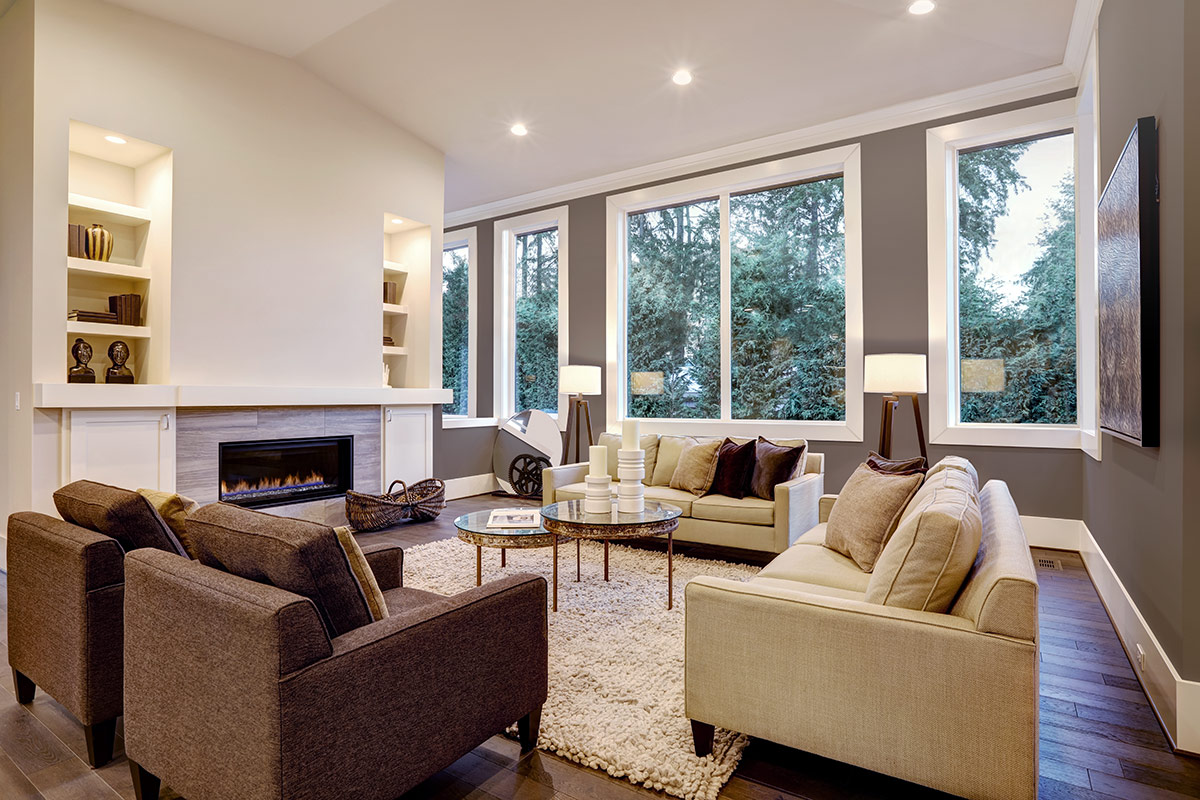 Add the finishing touch to the interior of your windows with the MasterFit trim system, complete with assembled frame extensions that interlock with mortise and tenon casing. Our MasterFit trim system guarantees a precise, custom-fit, and long-lasting factory applied finish.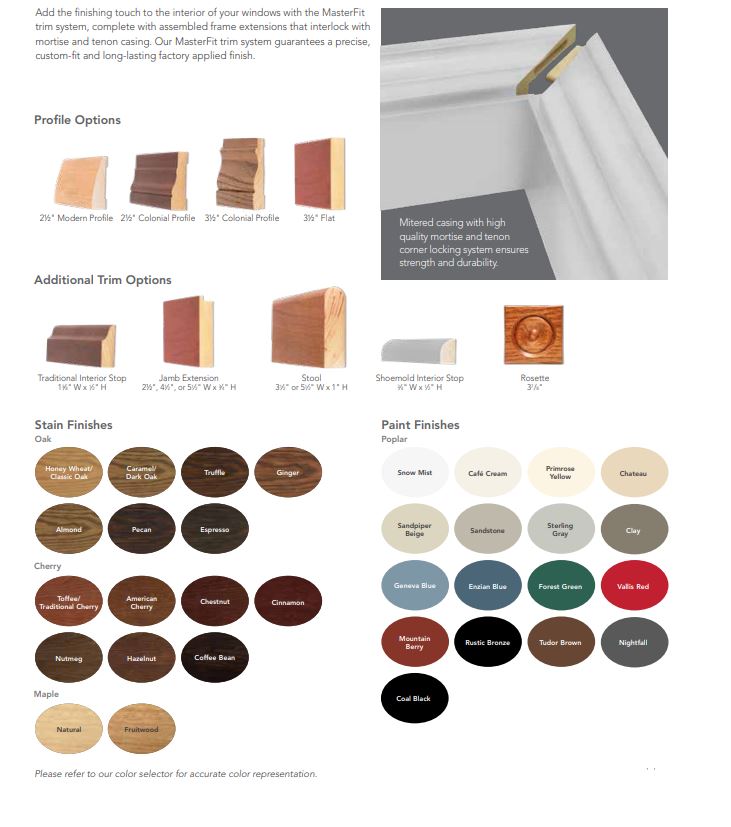 Have something else in mind? Talk to your Window Depot Kansas City representative to see whether we can meet your custom needs.